Easy4Pro software update: new features
The Easy4Pro software included in Pro and Pro 3D versions of FourPro Studio4 Jewels, Studio4 Eyewear, Studio4 Shoes photographic systems integrates new and very useful software features!
But let's start by saying what this new software, introduced in 2020, already allowed to do:
Videocall: for sales via live streaming shopping
Automatic camera setting: automatic setting of camera parameters (ISO, AV, TV)
Remote shoot: camera control by the computer to shoot with one click from the software
Photo pre-editing: rotation and automatic whitening of the photos
Centering finder: for centering photos quickly and easily before shooting
Ghost image for the same photos: to have the products in the same position
Focus stacking: for photos with the whole product sharp thanks to the multiple focus points
Background transparency: automatic background transformation from white to transparent
Photo editor: software features to modify colors, saturation and temperature
1:1 scale crop: 1:1 scale crop feature to keep true size of the product in the photo
Advanced saving: to save with one click in multiple formats and different folders
Product measurement: for measuring products and saving photos with the related measures
Videos and 3D animations: 180°+360° motor control and video recording with one click
Video and 3D editor: simple and complete functions for exporting video and 3D
To all these, we added new useful software features which you can access if you already have the Easy4Pro software, simply by downloading the new version available (completely free); while if you still have an old software version (prior to 2020) you can purchase the software update at a reduced price.
If you don't have our software and photographic system yet, you can buy it at an advantageous price.
Let's see which are the new software features of Easy4Pro:
Advanced control of camera settings
Easy4Pro now also allows you to pre-set the camera's Color, Sharpness and Contrast parameters, as well as the usual AV, ISO and TV settings.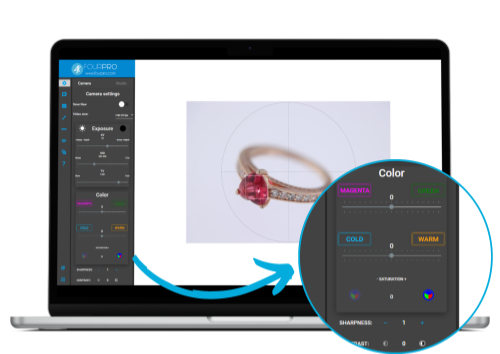 Photo centering grid
Before cropping the photo to a 1:1 scale, you can now center the product using a centering grid that overlaps the photo, making this job very easy!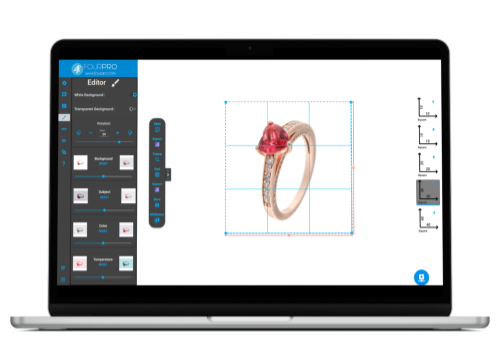 Buttons to import and export automatically on a professional editor
With a simple click you can now switch from Easy4Pro to the advanced editor software that we provide with our software package.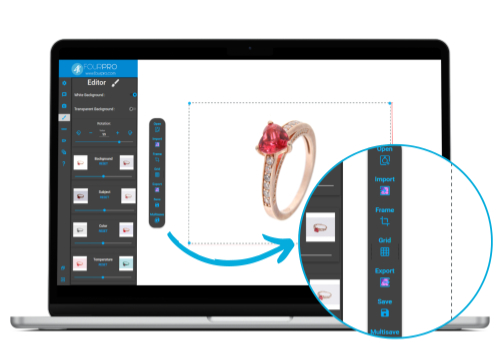 Haven't you switched to FourPro technology yet to take photos and create videos and 3D animations in an automated way of jewelry, watches, shoes, bags, eyewear and fashion accessories?
What are you waiting for? Contact us for more information on photographic and video solutions.