Websites are nowadays one of the most helpful tools to allow companies to make themselves known to increase the range in business, both online and in physical shops.
We decided therefore to write a second article about new hints to create or improve jewelry and general fashion companies' websites.
The recommendations we are going to see in detail in the following article are in addition to those described in the previous one, which are:
Adding a dynamic banner to the upper part of the home page, outlining the useful and interesting information for the user

Dividing products into categories and create filters to ease researches

Creating beautiful pictures and 3D animations to promote products online

Adding reviews to the home page and under your products

Adding a Chat to support the payment stage, to allow customers to get in touch with the company in case of problems during the order confirmation.
Have you missed the first article explaining in detail all these points? Find it here: 5 Tips to create or improve a jewelry website.
1. Showing the products from different angles
There are always many pictures of different products on every website. Therefore, pictures must be preferably on a white background, with a worn effect of the product.
When it comes to a dedicated web page, there are commonly many photos of a single product that show it in detail:
Photos of the whole product, as if it was worn

Photos of the main angles, mainly if some details are hidden in the first pictures

Photos of the details that characterize the product, for instance specific techniques or engravings

Photos of a model wearing the product

3D animation or video of the product in motion
These results (except the photos with the model) can be easily obtained with:
Studio4 Jewels to take photos and create videos of jewelry, gems and watches
Studio4 Eyewear to take photos and create videos of eyewear
Studio4 Shoes to take photos and create videos of shoes and small fashion accessories.
One of the main causes of failed online sales on e-commerce websites is the low quality of photos, that makes the buyer think that the product is not worth it. They may then give up the purchase. It means that high quality photos are undoubtedly one of the main aspects of a website!
Do you need some help for the realization of beautiful photos and 3D animations? We offer photography courses, sale, and rental of photographic systems to obtain professional photos and videos.
2. Selling through jewelry live streaming shopping
Live streaming shopping is a new selling method that is taking even more ground in the industry. It consists in a remote connection with the customer, by using a videocall software (such as Zoom, Skype, or even social networks) to show and promote products remotely, as a face-to-face meeting.
There are different methods to enable live shopping:
Broadcasting, to communicate simultaneously with many people. Perfect for medium/low price products

One to one, to ensure a private communication with the customer, as if they were in our shop. This option is ideal for high price sales, where listening and communication with the customer are crucial.
This new way of selling allows you not only to show your shop, but also to expose remotely your products through a direct communication between the seller and the customer. This can be done thanks to our software Easy4Pro: our technology enables you to show your products remotely, with an easy and handy user interface, and different commands for the online order entry. Other than that, through our software you will be able to take and edit professional photos, videos, and 3D animations, and take measurements of your products.
3. Easy creation of the customer profile and marketing e-mails
When an e-commerce is in place, and the visitor of your website decides to proceed with the purchase, they always have to register, and the process must be quick and easy. This can be done for example through social network accounts, without creating a dedicated password.
Once the customer is registered, all they need to do is logging into the account. Here, several information must be available, such as previous orders, delivery status of the last purchase, other products that may be of interest according to the previous orders, and the products added to cart.
A good management of the customer's information and of their previous orders, or even the ones left incomplete, is certainly a good opportunity for the company to collect useful data to create customized marketing e-mails. You might think of sending an email when a product that has been left in the cart without completing the order is discounted; or even advising about other discounts and gift ideas for the customer's birthday, offering a discount for that day.
These are just a few ideas of customized messages that can be created once clear information on our customers and their interests on the website are available.
The search for keywords before writing a blog article or a web page is crucial for search engine placement. It is important for your activity, products and services analysis, your targets and competitors' assessment, and to define your objectives.
It is essential to identify with your own target to find the terms that they would use for online research of your offer. Users type words and phrases in any search engine to find information on a specific subject, and your task is to intercept their needs in the same language.
Once these analyses are accomplished, the terms you found can be verified through Google research: type the words and wait for it to give you more terms. The resulting new terms can give you some new ideas.
Google Ads is another useful tool. It provides a keywords scheduler that allows you to check if the terms you have in mind are actually used by the users. Moreover, it suggests some synonyms according to other Google searches.
All these terms can be used in the titles, in the body of the text, or even in images. It allows the search engines to immediately understand the subject of the page or article, offering your website as the result of what the users are looking for.
If you need some help to find the best keywords to make your website appear among the first results of a Google search, contact us for an introducing appointment with one of our web designers.
5. A good corporate storytelling
Every website must include a web page dedicated to the brand or corporate storytelling.
This page is usually under the name of "About us", and it aims to engage further the visitor of the website. In this page, it is fundamental to tell the origins and developments of the company, along with the mission and the guiding principles. Once this section is written in a complete and immersive way, visitors will be involved in the company's values, and will decide whether to buy the products as they feel close to the company's principles.
It is not easy to create and maintain a website with a good visibility that therefore allows you to come in contact with new customers that you probably would have never met in physical shops. For this reason, contact us for a free appointment if you need some help to improve or create your website. We will assess together your current situation, the results you want to achieve, and if some actions are needed to obtain the results you are looking for.
AUTHOR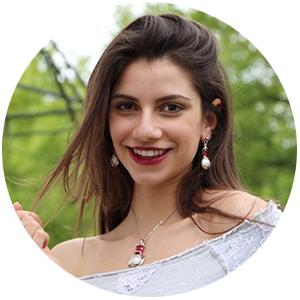 Dalia Lombardi
Jewelry Marketing Expert